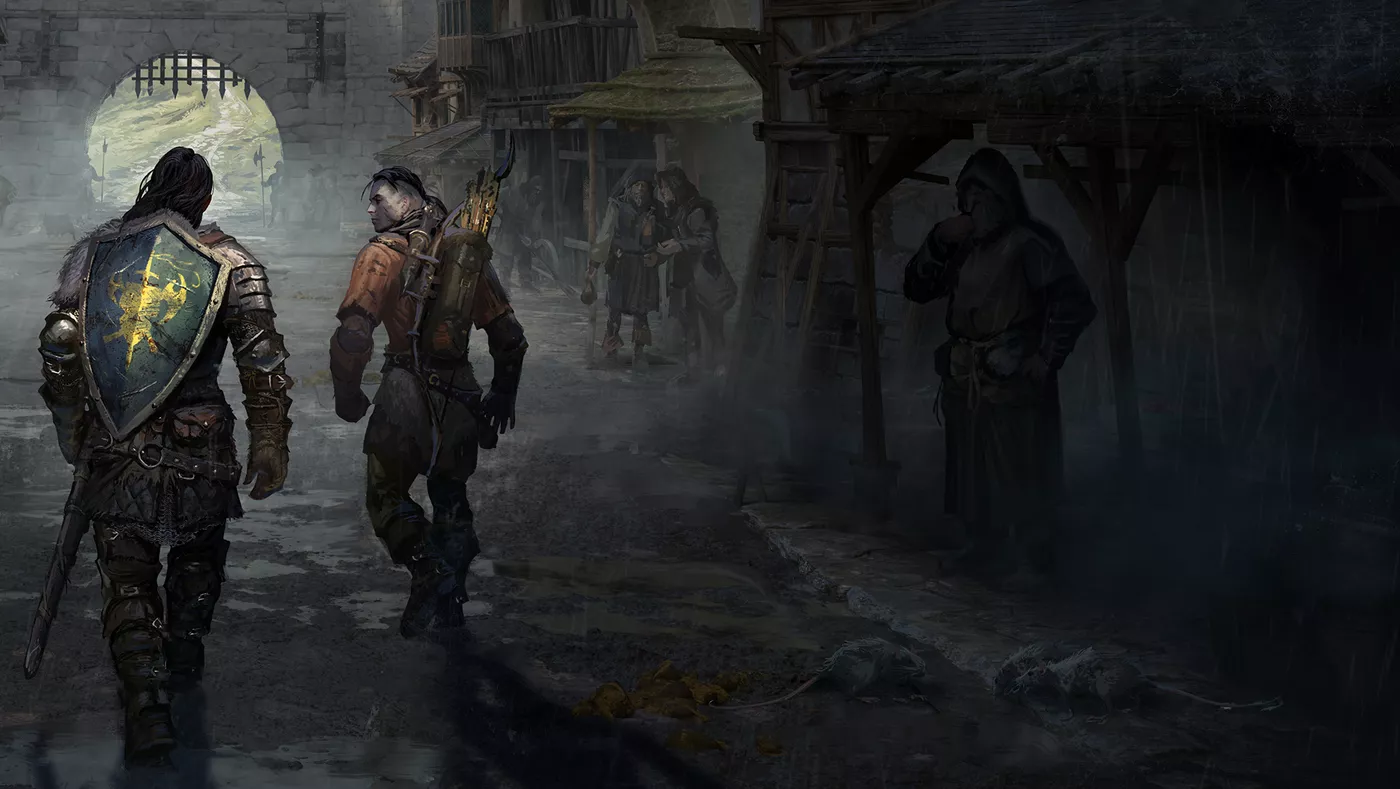 Taernians,
First of all, thank you for your great commitment, support, as well as all your submissions and suggestions. Among others, it was your proposals and opinions, which you were so eager to share, that allowed us to take a fresh look at many matters, influencing the further development of the Broken Ranks world.

Plans for the next year

Before we move on to the changes in this year's roadmap, we have some good news for you. We are already thinking hard about brand new content, activities and functionalities that we could introduce to the game - these include new mid and high level instances and the continuation of the main plot (return to Taern!). We have a whole lot of ideas and we want to share preliminary plans for the content in the upcoming two quarters of 2023 - we have added them to the infographic, which you will find at the bottom of the post.
Another thing: we are slowly preparing for next year's closed tests of the mobile version of Broken Ranks. We know that many of you are waiting for it, so we will make sure that you are always up to date.

Changes in this year's roadmap

This year, at the end of February, we published the first part of our roadmap. We are glad that we managed to implement all its goals and add a few extra functionalities that you asked for. This time we are back with the announced update of this year's plans.
We followed your suggestions and kept up to date with the discussions on the channels since the very release of Broken Ranks. We have taken them into account, analyzed all the urgent matters that remained to be done in the last quarters and set new priorities. We decided to emphasize balancing issues, which - as you know - are extremely important in any MMORPG, because they affect the entire gameplay.
We've decided to postpone the guild update (including guild wars) and start working on reforming the PvP system sooner to make it more interesting for both new players and veterans.

We decided that rebalancing the PvE professions, which by the way has been sought by you so much, is so important that we will undertake it much sooner than we intended - after all, it affects the overall gameplay (not only solo, but also party struggles). Therefore, the dungeon map will go into the background. In the first instance the changes will affect the barbarian and the knight. We want the gameplay, in the context of character classes, to be more balanced and, at the same time, engaging for each of them.
What else? You have often discussed the types of gear and their suitability at different character levels. We will look into this and rebalance them along with the implementation of new mechanics. As a result, the new epic items will be moved from the fourth quarter of 2022 to the first one of 2023, so that they are already compatible with the rest of the updated gear. Most importantly, we want to ensure that each type of equipment (rares, psychorares, sets, synergetics, epics) is attractive and useful at given level ranges. In addition, we will look at boss instances and slowly start introducing their different difficulty levels (so-called instances v2), thanks to which later this year you will receive another portion of great fun and new challenges.
In addition to larger updates, of course, we will also add patches containing all kinds of fixes and improvements. As before, in individual changelogs we will mark selected elements that we managed to introduce after following the suggestions that you post, for example, on our Discord.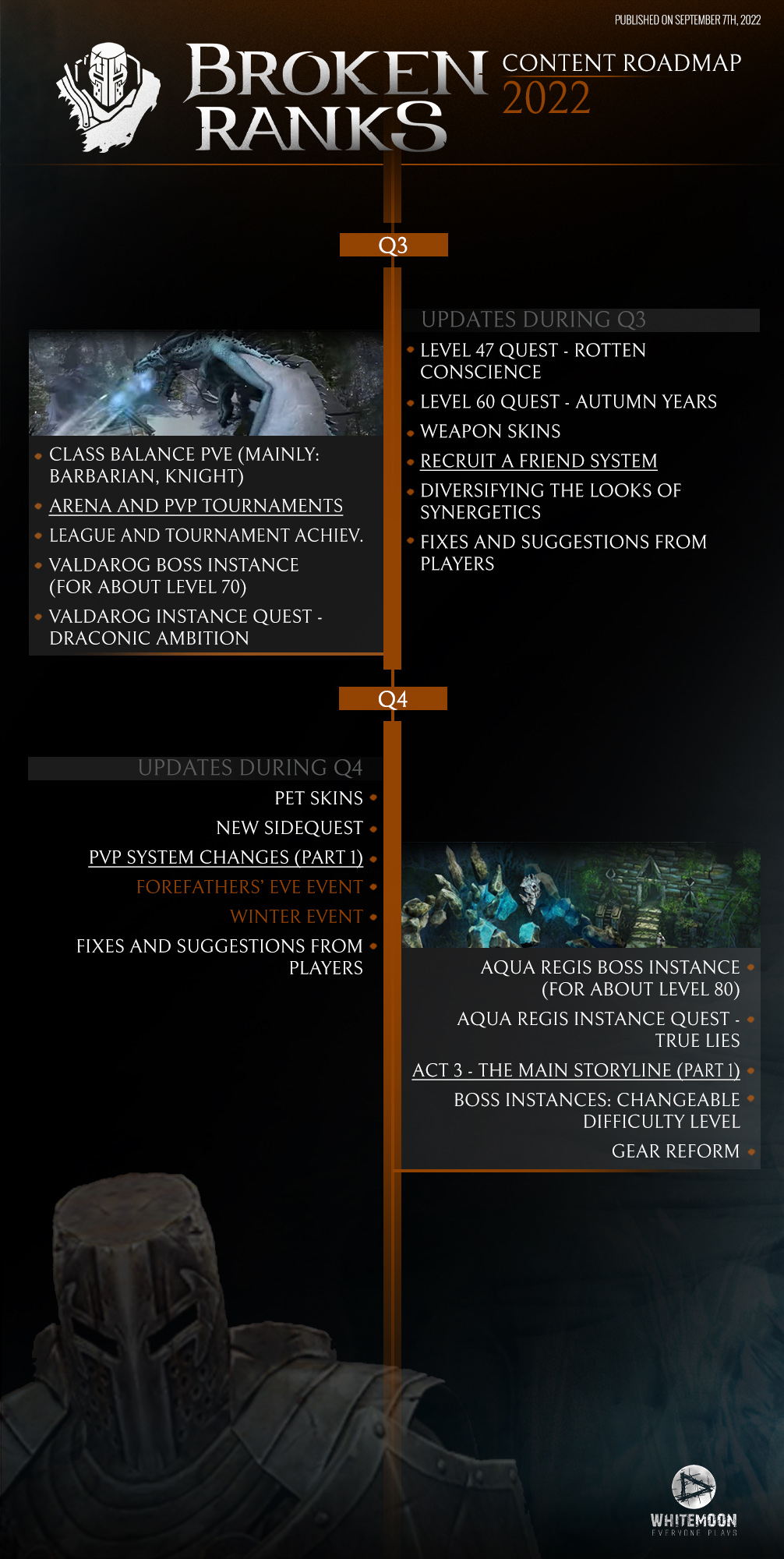 2023: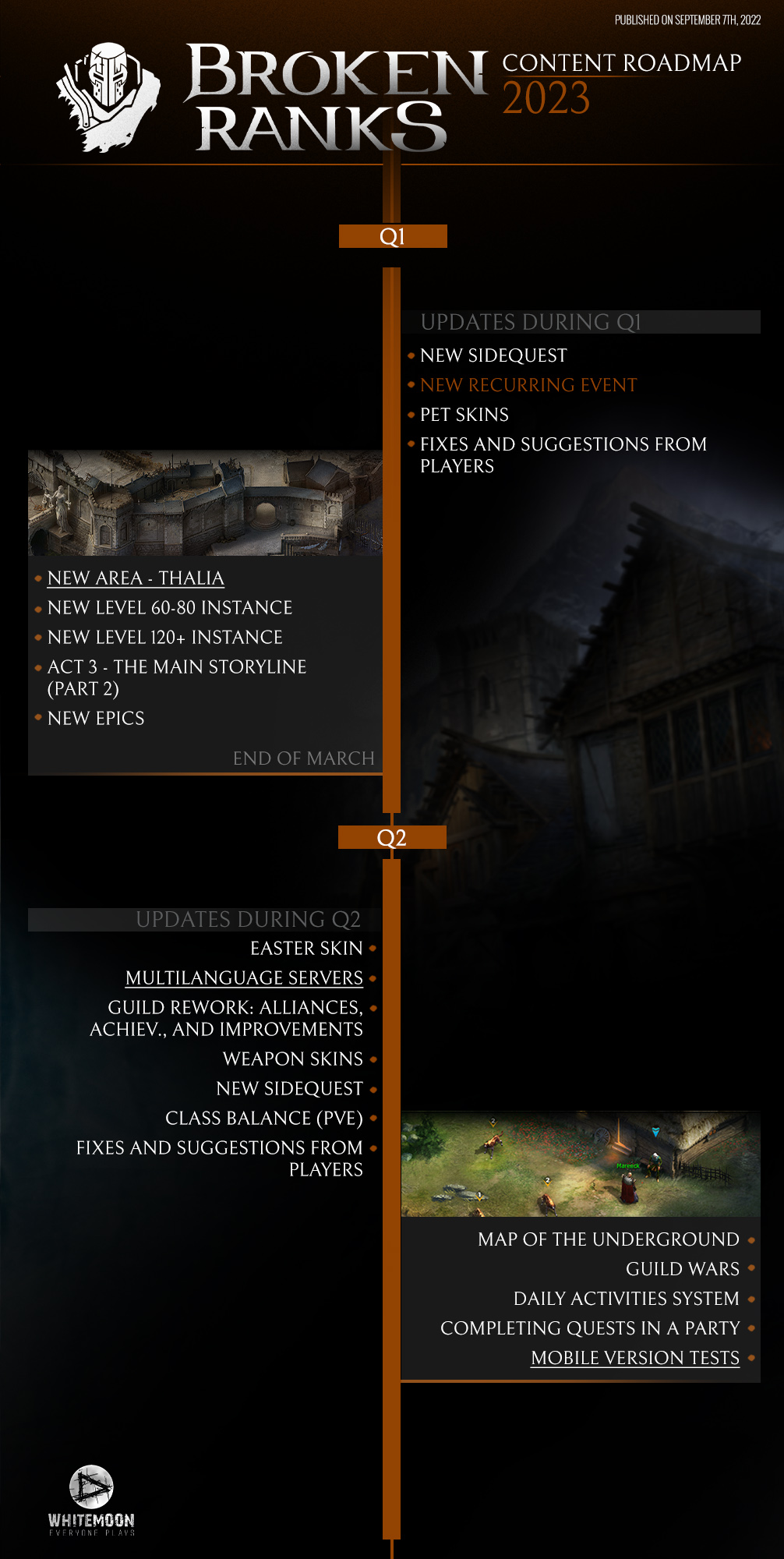 Summary of this year's activities

Since the release, which took place 7 months ago, we managed to introduce:
two large boss instances (Castle Specter and Puppet Master),
quests introducing to instances,
guild plots improving integration between players,
two smaller special events,
the first part of the achievements system,
trading system (Marketplace),
recruit a friend system,
cosmetic additions, a lot of fixes and smaller or larger improvements and functionalities.

Nearest update

The third quarter will be closed with an update containing:
Valdarog's instance (boss on approx. level 70),
introductory quest to the Valdarog's instance, allowing you to gain an insight into and explore the history of the place and the boss himself,
PVP arena and tournaments system,
League and tournament achievements,
PvE professions balance,
bug fixes and improvements.

Thank you for being with us and helping to co-create the world of Broken Ranks. We wish you a lot of fun and many pleasant moments!