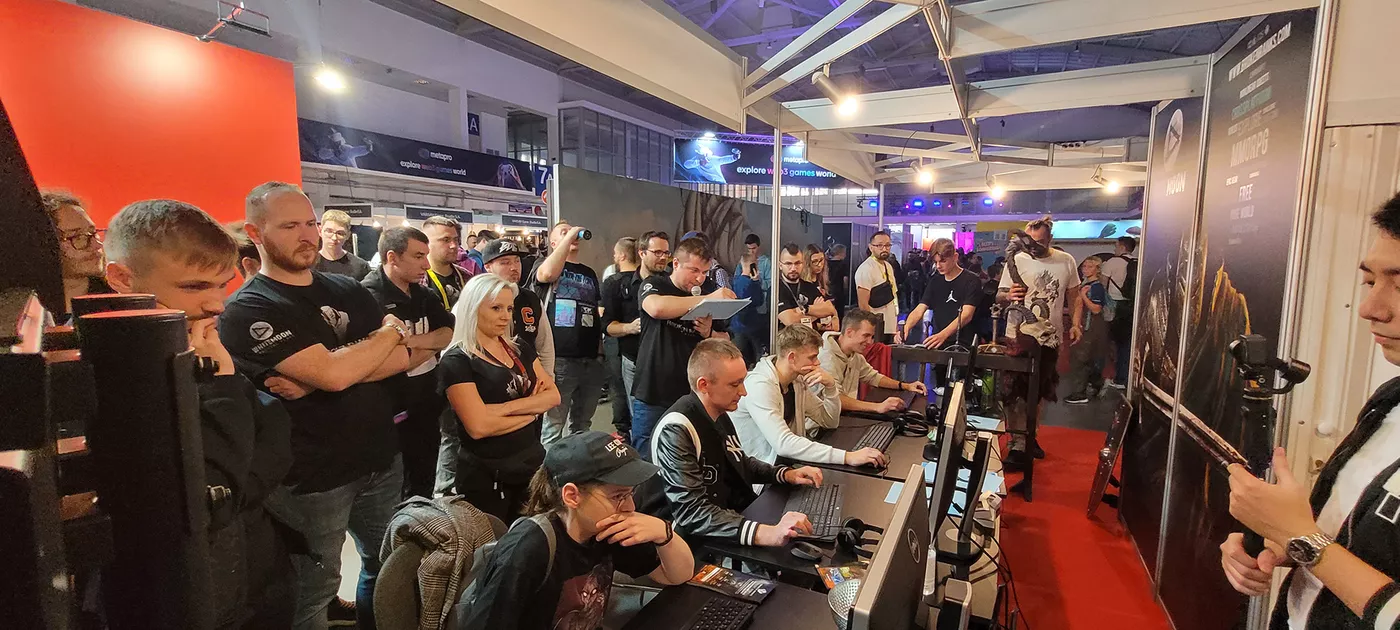 Greetings, Taernians!
This is Silka with a report from the Poznań games show! It's been a while since we returned from Poznań Game Arena, but the emotions are still seething in us because… a lot has happened!
How was it, who did we meet, and who won the Broken Ranks tournament? You'll learn this and more as I cover the event, so fasten your seatbelts and enjoy 😁.
The last time we participated in the PGA was in the distant 2019. Since then, we had an open beta, released the game, and added to it a multitude of interesting mechanics, a lot of content, and many improvements you requested. We quickly realized that our efforts were worth it, because the interest in Broken Ranks on PGA 2022 surpassed our expectations!
During those three days, you could play at our stand, take a picture in a designated area (we'll talk about it in a minute), try something sweet, win cool rewards, and talk to both the Team and the "founding fathers" of Whitemoon Games in the flesh.
On Friday, we were visited by all kinds of people – cosplayers, streamers, industry colleagues, and gamers of all ages (it's never too late or too early to play games!). For new players, we had leaflets with codes for seven-day premium accounts, and for the current ones – codes for platinum (we know you love it 😉). The most committed received company accessories and delicious fudge (that was commemorated on TikTok).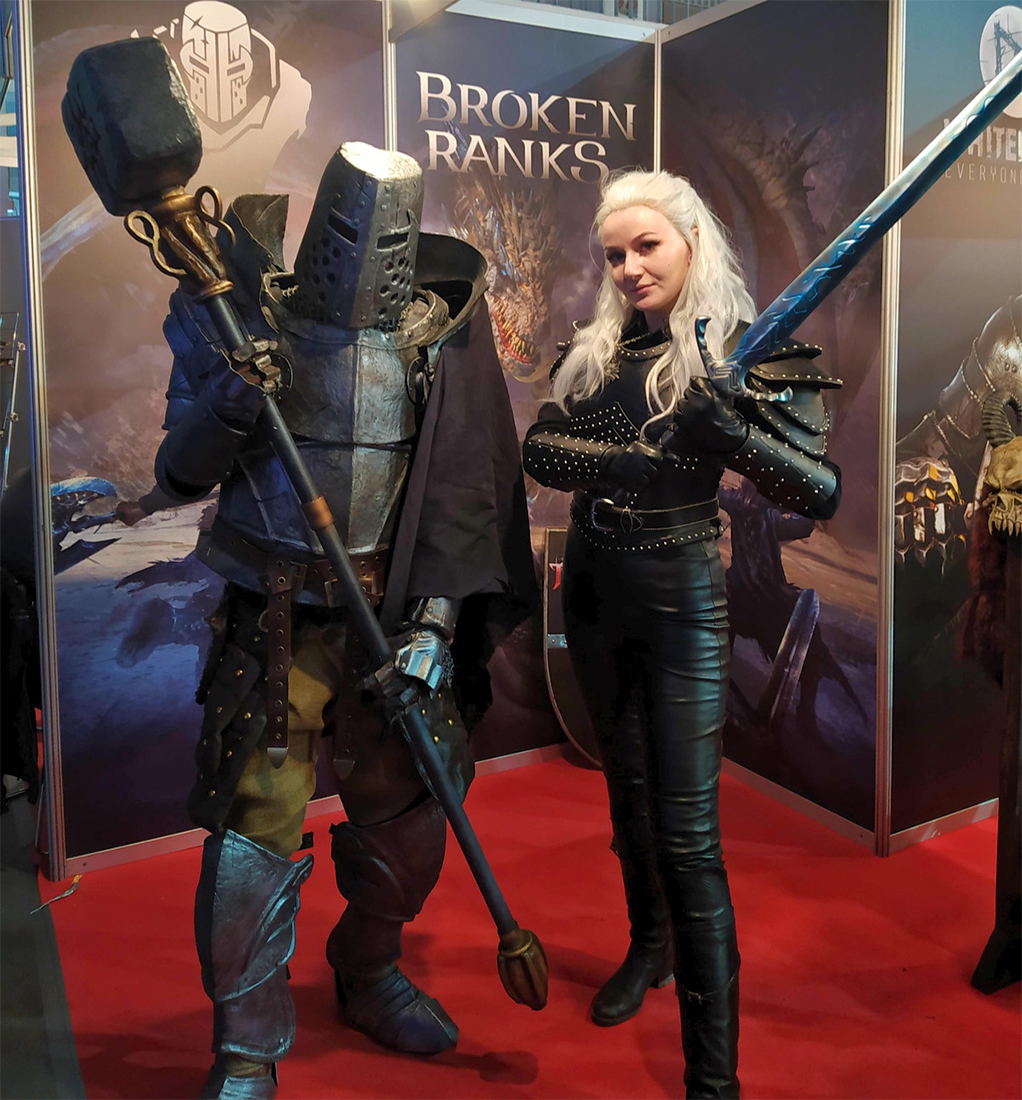 [Knight with the astonishing Fairyluthien]
Broken Ranks cosplay area proved to be a real sensation at the show. Tentacle Creations dressed as a Taernian Knight was lurking there bravely and attracted people like a magnet. Anyone could have a picture taken with him and embody a character from the game with props available at the stand. You can find more pictures, e.g. on our Facebook HERE.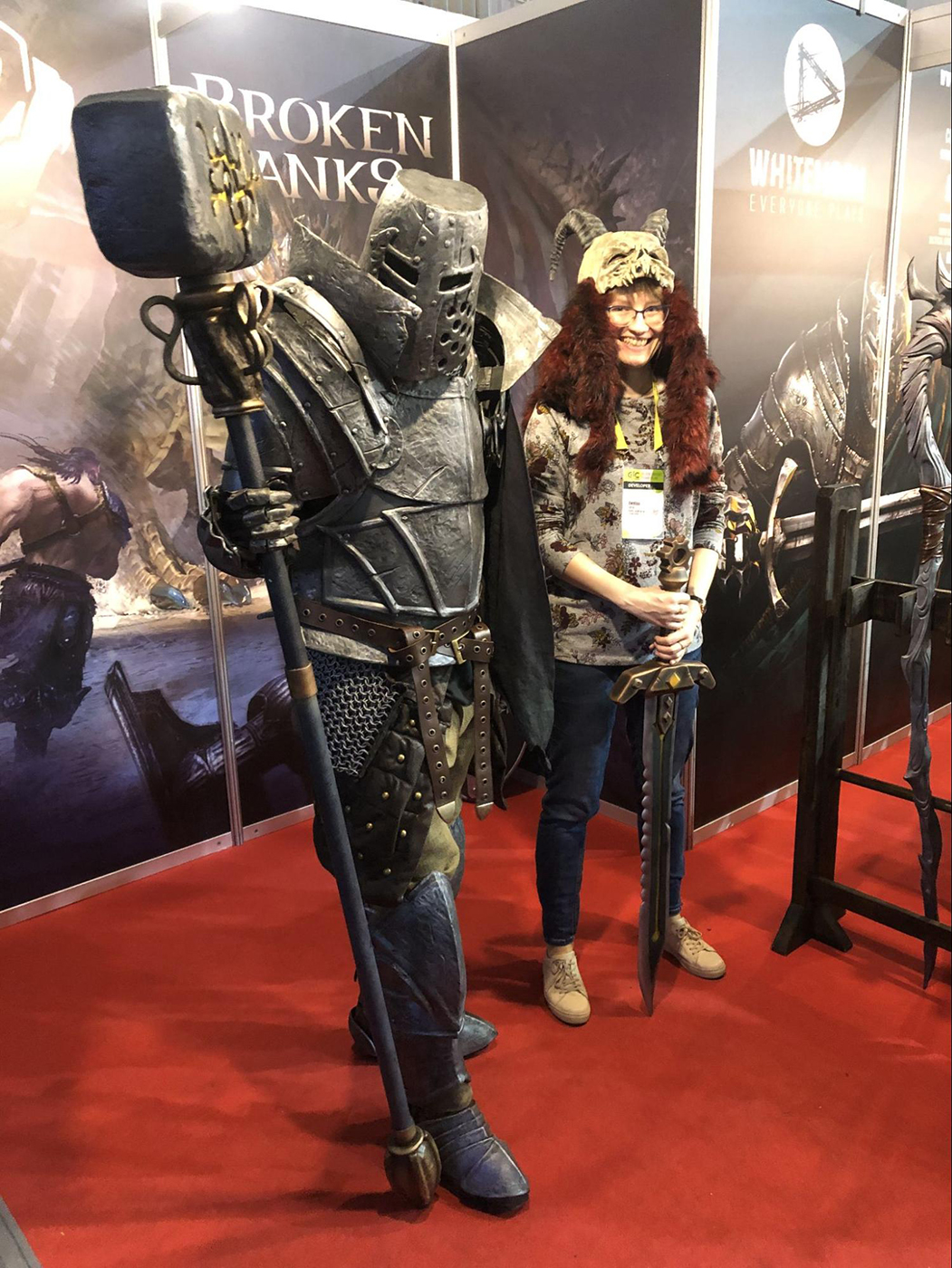 Among those ambushed by him were Ztrolowany, SoundScape team, Adam from Centre pl, pretty Nayofoxy and Bonkol whom our age-old player Knox answered when he was asked: "why should people who have played Taern try Broken Ranks?" You can find the video HERE. And if you didn't get a chance to see our stand by yourselves, you can do it on Bonkol's other channel – CLICK.
The last visitor left us after the show closed for the night and at the request of security (we were very sorry!).
On Saturday our stand was besieged by visitors, which made us overjoyed. There were long lines to computers and the Knight while the Team was chatting with players all the time.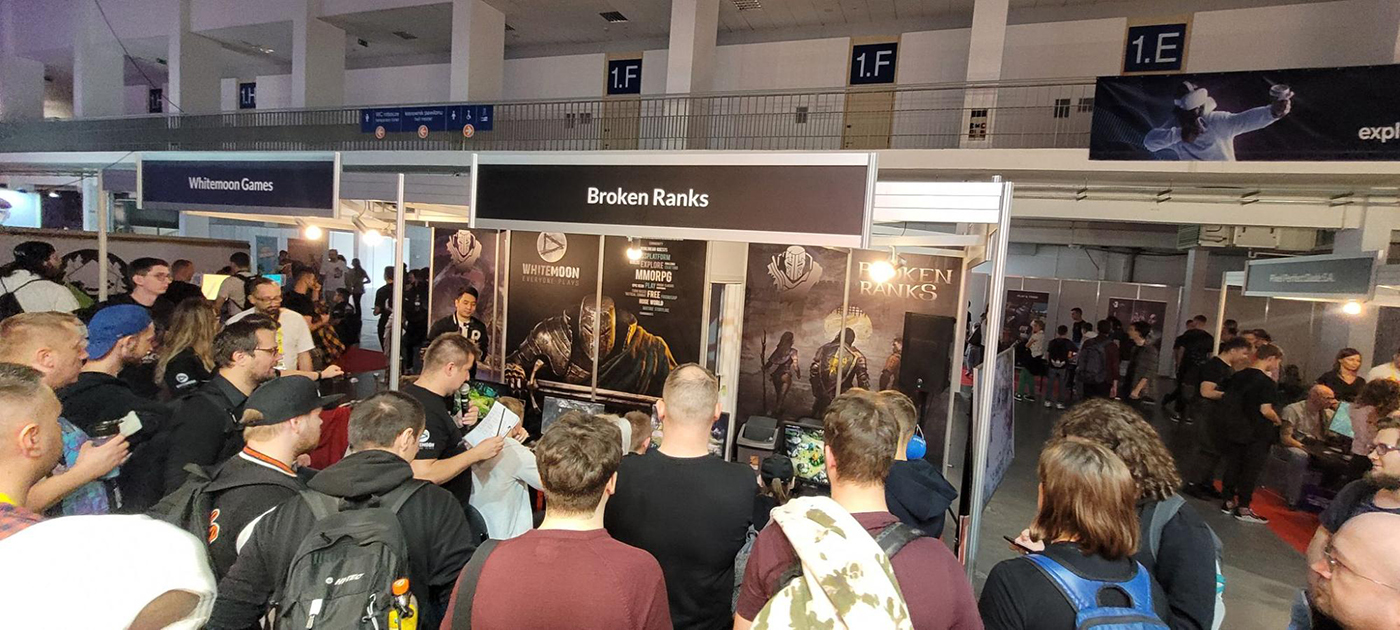 [Audience during the tournament]
On that day, the Broken Ranks tournament was held. As always, it was led by Dawid thanks to whom we were heard throughout half of Pavilion 7. Separate thanks are owed to our incredible audience, who cheered on the contestants! It was a five-round PvP tournament. The finals were fought by Wojtek (III), Otto (II), our irreplaceable Srebrna (🖤), who played as an archer-stonethrower because our fourth finalist, Fiedzio, was devoured by the abyss of the show. Who was eventually favored by fortune? Well, it was our (as he called himself) great fan – Kajek. CONGRATULATIONS! What loot awaited the victor and was it worth the hassle? Kajek answered personally on our TikTok. You can find links at the end 😄.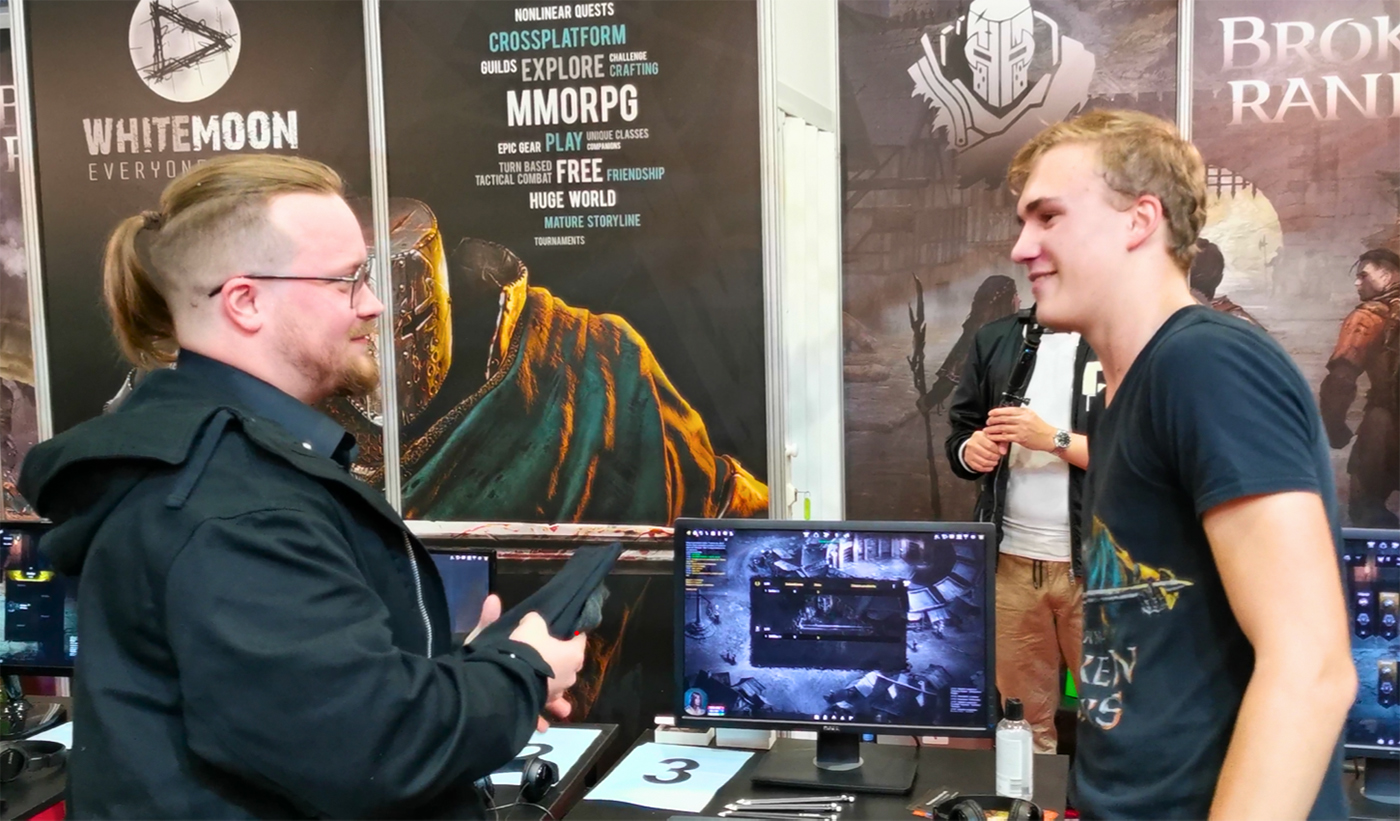 [The two finalists after the decisive battle]
The last day is usually the hardest one, but thanks to your energy we were ready and willing. Until 5PM, we were handing out gifts, smiling to cameras, and Drygu did an interview with the Szczecin radio (it's on Instagram now) and UAM's student Meteor radio (premiering soon).
A-a-a-nd finally the promised link to the social media of Whitemoon Games – CLICK. Be sure to tag us and drop by for more photos, information about future updates, events, as well as memes and other fun things.
Thank you for your engagement, interest in the game, chats, and thousands of compliments, questions, and advice you shared with us during PGA 2022. The best reward for our Team is the smile and pleasant surprise painted on the faces of fans at the sight of Broken Ranks.
May the power of the Stone Spirit be with you and see you next time! For Tae-e-ern!
~ Anastazja aka Silka